Playing Boulder Canyon
The Signature Sturgis and Deadwood Golf Course
Boulder Canyon Golf Club is an 18-hole, par-72 championship course. Play is open to the public and tests golfers of all skill levels. A spectacular layout offers stunning panoramic views with every shot. Each hole presents decisions that reward the bold while offering less risky alternatives to more conservative players.
In 2023, Boulder Canyon Golf Club celebrates 75 years as the signature Sturgis and Deadwood golf course.
Since we opened our doors in 1948, the front nine has presented players from all over the world with a thoroughly satisfying challenge. Following a more traditional layout, its wider fairways and forgiving greens provide even novice players with birdie opportunities.
In 2018, Boulder Canyon expanded to a full 18-hole golf course with its new back nine. Players of all skill levels appreciate its complexity and beauty, defined by tighter fairways, native grasses, and the numerous ponds our Canadian geese call home.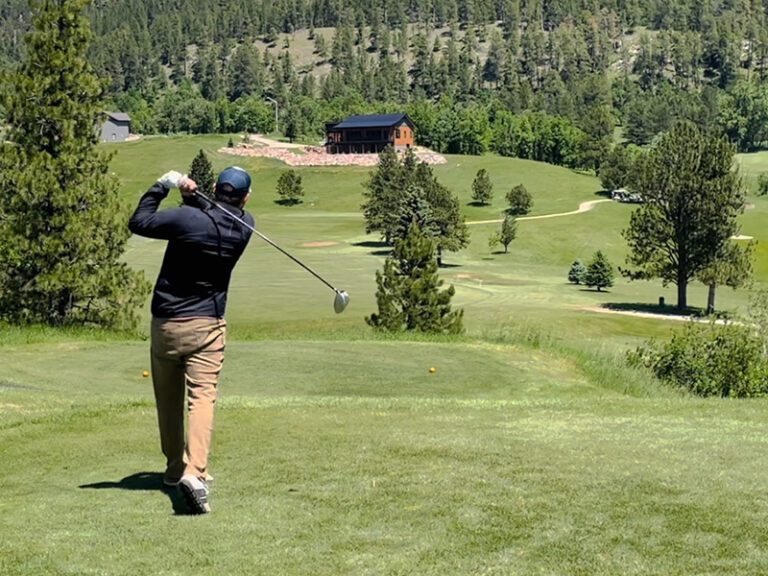 If you haven't played here recently, you haven't played Boulder Canyon
Boulder Canyon Golf Club came under new management in 2021. Since that time, more than $1 million has been invested in course improvements to provide players with the finest golf experience in the Black Hills.
RECENT UPDATES:
Installed over two miles of six-foot-wide concrete cart paths on the back nine.
Added new asphalt overlay on all of the front nine cart paths.
Doubled the operating budget to ensure the best course conditions.
Our club offers players a variety of top-grade equipment and conveniences, including:
Cart rental. Coming during the 2023 season, take a ride in a brand-new Club Car Tempo golf cart, with built-in Bluetooth speakers and full GPS capabilities.
Club rentals. We have high-quality clubs available for men, women, and children, including left-handed sets.
Driving range and practice green. Check out our recently renovated practice range with target greens. These facilities give players the chance to warm up or improve with every club in their bag.
The Golf Shop at Boulder Canyon offers the latest in equipment and apparel for men and women.
Find gear for your game, whether you want to rent clubs or buy all-new with brands like Callaway and TaylorMade. We carry Titleist, Callaway and TaylorMade balls, tees, gloves, and accessories.
Get outfitted both for your round and for leisure time. Our selection includes high-performance golf apparel and comfortable, attractive branded clothing. Visit The Golf Shop to see everything we have to offer.
The design of Boulder Canyon Golf Club is unique to the area. Each hole calls for a different skill set while emphasizing the natural grandeur of our setting.
Then, there's our signature hole, No. 12. There is no more beautiful view on a golf course in the Black Hills. A new back tee box requires carrying 160-plus yards over open water to the island green. Fair warning: even experienced golfers find it intimidating, and as one player put it, "Some people just get up there on the tee box at twelve and freeze."
Regardless of the drive and irrespective of the score, play Boulder Canyon for an unforgettable day of golf.
Get the Most from Your Game
Download before you tee off
Boulder Canyon offers the best experience you can have on a Sturgis or Deadwood golf course – and the app makes it even more fun. Features include:
Tee time booking
Hole renderings
GPS yardage
Real-time scorekeeping
Current course conditions
Tournament registration
Course rates
Sports Bar and Grill menu
Start and end your day at The Sports Bar and Grill
Boulder Canyon's restaurant serves freshly prepared burgers and pizzas, and our fully stocked bar offers both national brands and regional-favorite beers, wines, and spirits. Come for delicious food and perfect pours before, during, or after your round.
Dine inside, and enjoy seven screens for watching the big game. Alternatively, join us outside on our completely rebuilt deck, and take in some of the area's best views of the Black Hills National Forest. Whichever you choose, The Sports Bar and Grill is a great place for sharing drinks or a meal with friends.
Happy Hour: Food and Drink Specials from 4-6 pm Daily
Explore the Apple Springs community
Apple Springs is the residential resort surrounding Boulder Canyon Golf Club. This planned community combines the luxury golf club lifestyle with the privacy and untamed beauty of the Black Hills. Whether you've dreamed about a primary residence, vacation property, or retirement home in the area, learn about life in Apple Springs. 
9 Holes with Cart – $35 
18 Holes with Cart – $60
Monday – Thursday
*excluding Holidays*
9 Holes Walking – $40
9 Holes with Cart – $50
18 Holes Walking – $60
18 Holes with Cart – $70
Juniors (age 5 – 17)
9 Holes Walking – $25
9 Holes with Cart – $30
18 Holes Walking – $35
18 Holes with Cart – $45
Friday – Sunday
*including Holidays*
9 Holes Walking – $45
9 Holes with Cart – $55
18 Holes Walking – $70
18 Holes With Cart – $85
Juniors (age 5 – 17)
9 Holes Walking – $25
9 Holes with Cart – $30
18 Holes Walking – $35
18 Holes with Cart – $45
9 Holes with Cart – $35
18 Holes with Cart – $60
9 Holes – $15
18 Holes – $30
9 Holes – $15
18 Holes – $25
Driving Range Bucket of Balls
Small – $5
Medium – $9
Large – $16
Military member with ID – 10% off regular price.
Interested in Membership?
We couldn't do it without you!
Thank you to all of our 2023 BCGC Sponsors. Your support is vital to providing the best golf experience in the Black Hills.
Interested in becoming a sponsor?
By becoming a sponsor of Boulder Canyon Golf Club, you are choosing a cost-effective way of marketing your organization to thousands of local consumers, weekend visitors, tourists, and business professionals. We offer several levels of participation, each with high-visibility promotional opportunities.
Golf at Boulder Canyon — Where Everybody Plays